Let's face it, when the chill of Winter hits, most of us just want to get done what we need to and hibernate back in our homes. While this is all fine and to be expected, it can make you seem a bit distant from those around you. Especially, those literally closest to you: Your neighbors! Instead of going months without seeing them, I decided to compile a few easy ways to stay and be connected to those on your street during these chilly months.
Start a Book Club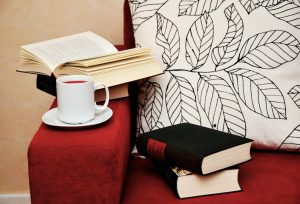 Winter is a great time to curl up by the fireplace with that book on your shelf you have wanted to read. Make it a group thing and invite your neighbors to read along with you. If you are all on Facebook, make a small group so you can check in on what your thoughts are and where you are at each week. Or, organize a weekly in-person get-together, swapping off your homes to gather and chat about the story. Even if you don't end up talking about the book, it's a perfect way to connect and stay in the loop about your neighborhood and what you're each up to.


Organize an Event
When winter is over, that will mean one thing: Spring cleaning! How's about getting a jump start on that and organizing with your neighbors cleaning up those closets and going through those dreaded "Spare Rooms" or "Guest Bedrooms" that quickly allocate clutter and white elephant nic naks after the holidays. Turn that space into bags or boxes of goodies to sell at a yard sale or donate once spring is upon us. You could even take this a step further and create a fun to swap party; each neighbor could bring their unwanted treasures to trade all while enjoying some local conversation, light bites, and wine.
Offer Your Help
Do you notice that each year your neighbors go away for the holidays or winter break? Offer to pick up their newspaper or their mail or sweep the snow off their front walkway. Are you home some of the day yet notice they are not, and they have pets? Offer to go play with Fido or check in on their cat. It's the little things, and, during the winter, those little things can especially feel huge.
Get Festive
Nothing brings people together like the holidays! It is the perfect time to invite neighbors and friends over to revel in holiday cheer. Consider hosting a cookie exchange, host an open house and offer a hot chocolate bar. Or do a progressive dinner party where each neighbor hosts a course. Another fun idea is to start a wine club. Each month a new neighbor can host, and you can all explore different types of wines. All are excellent ways to meet your neighbors and stay even more connected in colder months.
Don't forget to include your neighbors with a holiday card, too! Let them know you care and are, well, next door, or very close by.