With Halloween and the trick or treaters now behind us, this means full speed ahead with the "most wonderful time of the year" and the holiday season. Whether this has you eagerly making those lists and checking them twice or wanting to run to the hills at the thought of planning and serving as a holiday host, keep these 5 easy tips for holiday entertaining handy.
Don't Fret Over Bringing the China or Fancy Dishes Out
A common pest that often looms over us as we descend our way into food overload is the clean-up. You put your heart and soul into a beautiful meal, have your feast, have an extra slice of pumpkin pie and then may find yourself and everyone else avoiding the kitchen.
During a gathering, the kitchen is often the most social area of the home. You have enough of a cleanup ahead as well as staying host. So, why worry about all your plates, utensils? If you haven't checked out Chinet and disposable plates lately, they have come a LONG way. Several stores carry study paper plates that also have a chic look. Besides, it's your cooking that will be the star of the holiday dinner. Not the plates!
When in Doubt, Make it a Potluck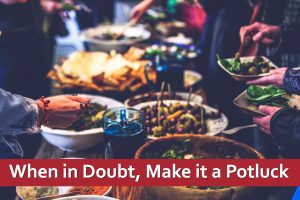 While your holiday soiree doesn't have to be a traditional office party kind of potluck, consider asking each of your guests to bring a dish. While you can still choose to prepare a good portion of the feast yourself, you will thank yourself later when you assign dishes for others to bring. It's a fantastic way to learn new recipes and favorites, too.
Have a Cookie Exchange or Hot Cocoa Party
Maybe you are not hosting a holiday dinner, but are planning a holiday drop in for your friends and neighbors? A holiday soiree is a great way to catch up with those acquaintances and colleagues you do not see enough during the year. Invite the group by for an informal cookie exchange party; each guest brings a batch of their favorite cookies while you bring the drinks and some takeaway supplies (Ziploc baggies, small boxes) for each attendee to take home the variety of cookies.
If you're hosting friends with children, be the most loved host around when you create a fun Hot Chocolate Bar for a get-together. Grab the hot chocolate packets, a fun variety of toppings (Whipped crème, chocolate bites, candy cane crumbles, etc) and have your guests bring a "White Elephant" gift that is preferable a mug for you all to use as you sip your concoction. This way, it is "Bring Your Own Cup"!
Bring Some Wine Tasting to Holiday Dinner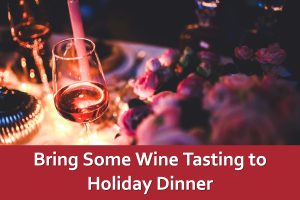 Many of us put a lot of thought into the wines or champagnes we'll serve when we host dinner. This year, ask your guests to bring a bottle of wine that you will then pair with each of your dishes. Pour smaller amounts, and make it a fun wine tasting conversation over holiday dinner.
Make it a Buffet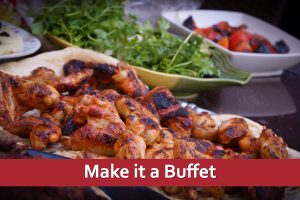 If you will be serving a large group, it is always difficult to "pass the gravy" when it's on the opposite end of 10 or 15 people. When this is the case, try buying a portion of your dishes fully cooked, or prepare your dishes the evening before. Then, re-heat accordingly on the next day, and set everything up buffet style. This also means that each guest can serve themselves, and get their own food. This would tie in very well with using disposable plates!
What are some tips and tricks you have found useful when hosting for the holidays?